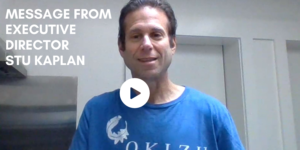 To our wonderful Okizu community,
In light of these unprecedented times, Okizu has made the heartbreaking decision not to host programs at our site in Berry Creek this summer. The recommendations from the CDC and California State Health Department have made it clear that it would not be safe or responsible to do so. However, Camp Okizu will happen; it must. We will tackle this challenge by pivoting our programs to virtual online camp.  
Although Camp will look different this year, we are committed to supporting our campers and aiding their support of each other. They will still enjoy recreational activities and new twists on well-loved traditions including the dance, baseball lunch, carnival games, campfire, and cabin chats. We have already rolled out Okizu on Demand with daily activities to keep our community connected and have just completed our first Virtual Family Camp, during which parents participated in discussion groups led by familiar facilitators, kids had activities with their favorite Okizu counselors, and singing and skits occurred around a virtual campfire! Camp applications can be submitted at www.okizu.org/apply. 
Okizu is more important now than ever. We are adapting and are committed to the continued support of our kids and families. We are also are continuing to maintain our campsite so that we are ready to host our campers and families as soon as it is safe to do so. If you are looking for ways you can help make this possible please contact me at stu@okizu.org. 
Thank you for your support as we continue to provide a healing community from a safe distance. 
Stuart J. Kaplan, MD, MBA
Executive Director