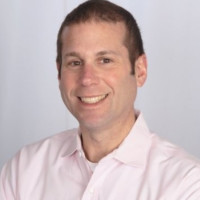 Okizu, whose mission is to help all members of families affected by childhood cancer to heal through peer support, respite, mentoring, and recreational programs, is pleased to announce Dr. Stuart Kaplan as our new Executive Director. Dr. Kaplan, who most recently was the Director of Pediatric Services for Veritas Collaborative in Durham, North Carolina, has more than fifteen years of professional experience in direct medical care of children and young adults affected by cancer, hospital leadership, and nonprofit administration. He obtained his MD at Columbia University and his MBA at the University of Amsterdam.
Stu previously was the Executive Director of Camp-Mak-A-Dream, a national oncology camp in Montana, where his passion for camp began as a volunteer and continued through his roles as Camp Director and ultimately Executive Director. During his time there, Stu led Camp Mak-A-Dream through strategic fundraising initiatives to grow the camp's annual income to better serve its families.
Stu has a great passion for camp and a strong drive to provide a high level of programming for families facing pediatric cancer. His unique expertise and insight will add to Okizu's culture and strategic vision. "I couldn't be happier to be back in the world of oncology camping. Having worked in many aspects in the care and support of children affected by cancer and their families, there is something particularly special and uniquely healing when they thrive in the community of camp. I am thrilled to do this work alongside the many established volunteers, supporters, staff, board members, and participants who have worked tirelessly over the past 37 years to establish tradition and a reputation for excellence. I'm excited to work with everyone to help expand our reach, our programs, and our mission."
Our Search Committee and entire Board of Directors provided guidance and support throughout our search and transition process. Board Chair Tim Crudo says, "Stu's experience and enthusiasm make him a wonderful addition to our leadership team, and we are very excited about the future of Okizu."
Our wonderful and capable staff will continue in place to support our mission, and we are very fortunate to have such a fine team. Suzie Randall, Executive Director of Operations, says, "we are delighted to welcome Stu into the Okizu family and look forward to working together to bring the magic of Okizu to our campers and their families."
This is an exciting journey for the Okizu family, and we are grateful to you for being a part of it. We greatly appreciate your support as we move forward together to strengthen and grow our programs for our families through strong fundraising and strategic leadership.