Thank you for your interest in supporting families coping with childhood cancer.
For 40 years, Okizu has been committed to the continuing support of the Oncology, Siblings, Family, Bereavement, and Teens-N-Twenties programs. These programs are the result of a collaborative effort between Okizu and the pediatric oncology treatment centers in Northern California. The specific purpose of Okizu is to operate peer support programs for children and families affected by childhood cancer, many of which are based on the community-forming nature of a residential camp experience.
Okizu is more than a summer camp: We work with all of our partners, from volunteers to national medical institutions, to reach and support those we serve, year-round and whenever we are needed.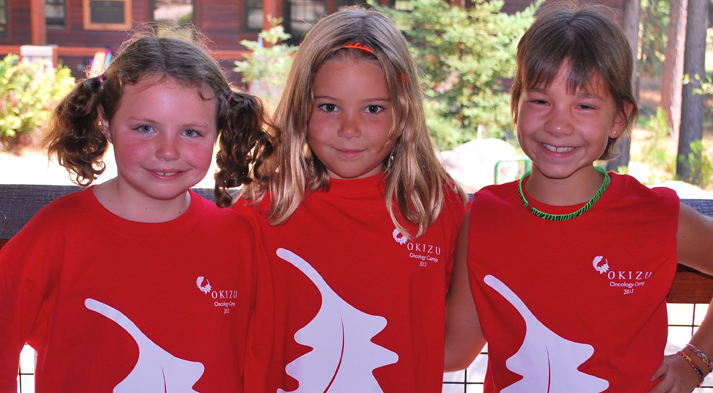 Make a donation today to help send kids like this to Camp Okizu.
 $1,000 sends one child to camp for a week.
$500 provides a weekend Family Camp experience.
$100 is the cost of food for one camper.
$50 provides bus transportation to camp.
 Gifts of any size bring the magic of Okizu to our campers!
Click here to make your online donation.
Donate through PayPal here.
Donate by Check or Credit Card by Phone:
Please make checks payable to "Okizu" and mail to:
Okizu, 83 Hamilton Drive, Suite 200, Novato, CA 94949.
Call 415.382.9083 to make a donation over the phone using a credit card.